Western Room

East wing

South wing

North wing

Japanese Room
Designer's Deluxe Twin Room: Japan Provincial
South Wing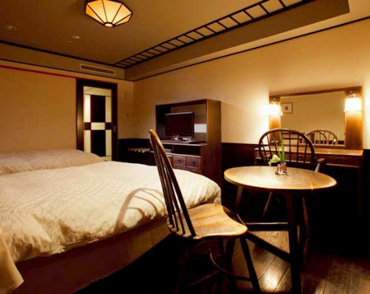 The rooms are luxuriously furnished with furniture made by Takayama's renowned furniture manufacturer, Hida Sangyo.
Floor Plan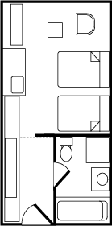 Floor Area
33㎡
Maximum Number of Guests
2
Size and Number of Beds
2 twin size beds
Check in time
15:00
Checkout time
11:00
Price per guest per night with two meals included. (Includes a 8% consumption tax and a 10% service fee.)
21,000 yen to 28,000 yen
Additional Taxes
Bath tax: 150 yen per night per adult
Room Facilities
26-inch digital television/Free LAN/Refrigerator/Telephone/Free Safe/Toilet and bathtub/Hair dryer/Toothbrush/Shampoo and Conditioner/Shaver/Jinbei (Japanese-style casual clothes)/Face towel/Bath towel
Free Services
We provide complimentary tea-time snacks in your room.
These snacks are seasonal and arrive fresh daily from popular confectionery shops in Takayama .
Enjoy Japanese hospitality.
Prices are subject to change without notice.
Images and floor plans are for reference purposes only. Your room may look slightly different according to its location in the hotel.