Vacancy Search
Thank you for your interest in staying at our hotel. Please fill in the information below to start your reservation.
A

ctivity
Heated Swimming Pool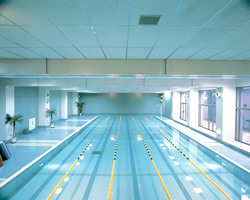 | | |
| --- | --- |
| Hours | Varies depending on the day of the week. |
| Reservations | No reservation is required. |
| Days Closed | Varies. |
| Prices | Adult: 1,050 yen, Child: 525 yen |
| Pool Dimensions | 25 m 5 lane competition-grade indoor heated swimming pool |
Shopping Mall: "Hida-koji"
The shops offer a wide selection of tastes and handicrafts of Hida, as well as basic travel goods.
Reminiscent of the streets of Old Hida, the "Hida-koji" is a walkway filled with unique souvenir shops. Quaint and picturesque, it includes a wooden bridge, trees and flowers, and lattice doors.
Young children especially love to watch the large "koi" carp swimming in the pond.
[Please order for home delivery here]
The most popular souvenirs are 'Nama-kintsuba' (a type of confectionery) and 'Special Magnolia Miso', which are both original products of our hotel and only available from here.
We also recommend 'Aka-kabura-asazuke', the delicious turnips served with your meals here, and 'Sarubobo' dolls which are made with a wish for happiness.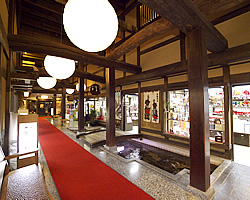 | | |
| --- | --- |
| Location | Ground Floor of the East Wing |
| Hours | 7:00 am - 9:30 pm |
Banquet Halls/Conference Rooms
We have seven different types of large rooms, both Japanese-style with tatami mats and western style. These include smaller conference rooms, suitable for presentations or receptions for a small number of guests, and the largest banquet hall in Takayama, which can easily accommodate up to 1,000 people.
| | |
| --- | --- |
| Room Names | Floor Areas |
| Kichijo | 570m2 |
| Matsuri | 353m2 |
| Laurel | 84m2 |
| Angelus | 51m2 |